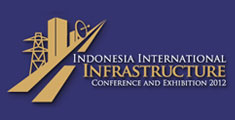 In conjunction with the Asia Pacific Ministers and Regional Governors Conference on Sustainable and Inclusive Infrastructure Development 2012 (APMC-SIID'12), the Indonesia International Infrastructure Conference and Exhibition 2012 (IIICE'12) returned on 28-30 August at the Jakarta Convention Center.
Gathering government leaders and decision-makers who are responsible for the future of infrastructure development, the IIICE'12 provides a critical review of infrastructure industries in:
Energy – Power Generation and Distribution
Information and Communications Technology
Transportation – Road, Air, Rail and Sea and Water
Water & Waste Management
The event was officiated by the President of Republic of Indonesia, H.E Susilo Bambang Yudhoyono. Approximately 900 delegates attended the conference while the exhibition, participated by 91 exhibitors, attracted a total of 4,540 visitors. At the exhibition, Hitachi showcased its strength and track record in various industries ranging from power systems, transportation system, water treatment to information communications technology.
Participating Hitachi Group of Companies include:
Hitachi, Ltd.
Hitachi Asia Ltd.
Hitachi Plant Technologies, Ltd.
Hitachi Data Systems Pte. Ltd.
PT. Japan AE Power Systems Indonesia
Hitachi, being one of the sponsors, had Mr Shinchi Hoizumi, General Manager, Thermal Power Business Division of Hitachi, Ltd. and Mr Toshikazu Takashima, General Manager of Hitachi Plant Technologies, Ltd. represent the group to speak at the conference during the Energy Session and Water & Waste Management Session respectively.