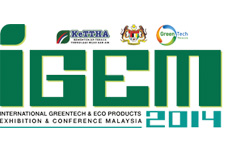 IGEM 2014 was held from 16-19 October 2014 at the Kuala Lumpur Convention Centre in Malaysia. Themed "Creating Green Wealth", this largest green exhibition in the region attracted close to 50,000 visitors from 52 countries.
For the fifth year running, Hitachi showcased its leadership in green technologies and solutions as an exhibitor at IGEM. Visitors at the Hitachi booth were able to find out more about Hitachi's suite of Smart City solutions in areas such as transport, water, energy, industrial, transmission & distribution (T&D), and data storage, as well as corporate activities in Malaysia. The booth also featured Smart City video presentations and a 3D hologram display of Hitachi's business portfolio.
The Hitachi booth received close to 900 visitors throughout the four days of the exhibition. Esteemed visitors to our booth included Tan Sri Dato' Haji Muhyidin bin Haji Mohammad Yassin, Deputy Prime Minister, Datuk Seri Panglima Dr. Maximus Johnity Ongkili, Minister of Energy, Green Technology & Water, Tan Sri Datuk Mustafa Mansur/ Puan Sri Anita Aqeela Hiong, Chairman of Malaysia Standards & Accredition Councils and Ministry of Science, Technology & Innovation, Dato' Seri Diraja Mahdzir Bin Khalid, Deputy Minister of Energy, Green Technology and Water and Datuk Jarjeet Sing, Deputy Secretary General of Ministry of Energy, Green Technology and Water.
For the 3rd consecutive year, Hitachi's uniquely designed booth came out tops among 616 booths to clinch the Best Booth Award!